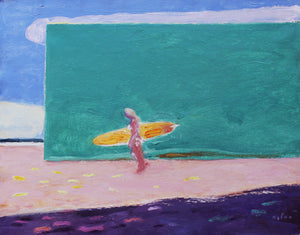 15"x19", oil on canvas
I visit Venice beach from time to time and always come home with impression of turquoise.
Every beach is filled with turquoise almost all beach town along the California coastal line. Reason why I'm so fascinated by this color is may be because s
ince I was born and raised in Japan
 I don't think I remember this color does exist in life until I came to California. Come to think of it when I took the very first bus ride which interior was turquoise I still remember the ride and was such exciting experience. May be just me that this color gives me such a special sensation it brings me a satisfaction of sight.
FRAME IS NOT INCLUDED
The painting has been varnished for protection.
Please note colors may vary from monitor to monitor due to individual settings.