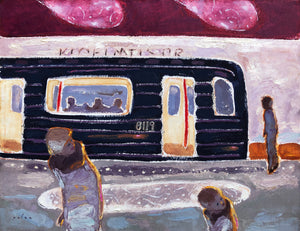 19"x24", oil on canvas
How I enjoy my paintings-a little voyage inside paintings.
My main interest is sensations I get from colors and textures which spread all over the paintings.  As my eyes hover around paintings picking up some spots that makes my eyes stop then a conversation starts with my little brain, goes like I love this brush strokes, love this color and color combinations, love this shape, love this combination of shapes right next each other and  and and lists goes on. Every time I say I love this and that  I feel so lucky that I can experience different emotions within such a small paintings. No matter where I start this little voyage there are some spots that I always end up. There seems I always come back to my one or more favorite spots. To make matter bit interesting, my brain sends me different messages when I see paintings under different time of the day or season which means under different lighting. If I'm lucky I come across the spot that I call THE MAGIC SPOT which gives me such a boost. I'll never be able to plan to creat this magic spots, if I'm lucky IT JUST HAPPENS!
FRAME IS NOT INCLUDED
The painting has been varnished for protection.
Please note colors may vary from monitor to monitor due to individual settings.