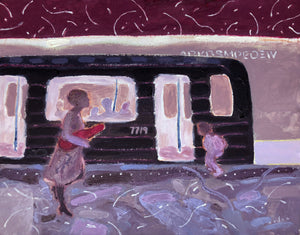 19"x24" oil on canvas
Lately more and more I'm interested in mark making on my canvas and to do so I have to ignore lots of things that I use to it like how I can describe what I see. I had so much fun and pain at the same time to do so. When a marking (texture) isn't working I feel really frustrated but once I come up with the marking which has it's shape, color, value, brushstroke, transparency and sensation I can tell myself that I can live with that. Mark making made me free from reality and open the door for me to make something new, guess painting getting more and more abstract than I use to paint but I'm enjoying this unknown possibilities.
FRAME IS NOT INCLUDED
The painting has been varnished for protection.
Please note colors may vary from monitor to monitor due to individual settings.