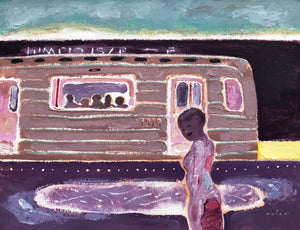 19"x24" oil on canvas
Every once in a blue moon I come across some extraordinary experience. It doesn't take much but a split second of experience turn into the moment I never forget rest of my life. What's up with that? It's almost like electric shock or awakening, it's a surge of ultimate happiness or satisfaction, to me that's what the life is all about, it's the strongest sense of inspiration, sense of lightning and sense of happiness.
When this lady turned back and glanced at my direction, of course she wasn't looking at me, the expression she made for a split second it was something I'll never forget, it was almost ethereal. Now I know that a split second experience can turn into a life time experience.
FRAME IS NOT INCLUDED
The painting has been varnished for protection.
Please note colors may vary from monitor to monitor due to individual settings.