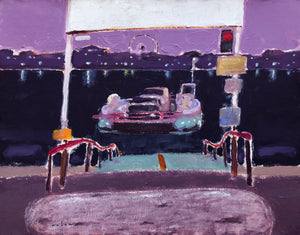 19"x24", oil on canvas
There's a ferry service in Newport Beach. It's a quaint boat and only can carry 3 cars at a time. This ferry caters to the locals and it seems well kept secret but lucky me I found
out totally by accident. It almost like I stepped on a hidden treasure not knowing. Because of
its small size I felt like a water skipper gliding through on the water. It was only a few minutes ride but I couldn't help getting out my car and enjoying the sea breeze. It was surprisingly quiet on the water-was a silent run. Something special moment in my ordinary
life. It doesn't take much to make me inspired.
FRAME IS NOT INCLUDED
The painting has been varnished for protection.
Please note colors may vary from monitor to monitor due to individual settings.