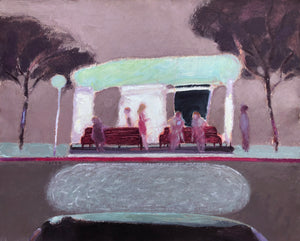 19"x24", oil on canvas
A few months back I started this painting but some reason I couldn't go on after the drawing. Looking back I lost interest in it may be the subject matter or design I don't quite understand so I didn't want to paint this piece, may be I lost my passion for painting. This summer came and gone like a typhoon although I had a wonderful time with my family but still felt guilty that I let this painting go. Some time I think too much about painting so my brush often quits on me, every time this happens it is so hard to get back to painting again, it's a curse! But unfortunately every artists know how to over come this paralysis-me, I was just lazy:(( Anyways this is the painting that I gave up on but this is the painting that didn't gave up on me and forced me to finish it against my will. Well to be honest, painting works mysterious way. Am I going crazy or what! 
FRAME IS NOT INCLUDED
The painting has been varnished for protection.
Please note colors may vary from monitor to monitor due to individual settings.